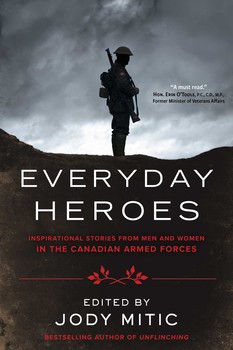 Everyday Heroes: Inspirational Stories From Women And Men Of The Canadian Armed Forces
Client
Simon & Schuster Canada
Skills
Creative Writing, Non fiction, Writing
Description
My essay, "Basically Broken," appeared in this incredible anthology of brave, honest stories from Canadian soldiers.
From the Publisher:
In this moving collection of first-person accounts, the men and women of the Canadian Armed Forces take us inside life in the military and share their personal stories of courage, perseverance, and sacrifice.
What does it mean to serve? Bestselling author Jody Mitic brings together veterans and active military personnel from across Canada to tell us, in their own words, what it means to answer the call of duty.
Meet the World War II bomb aimer whose plane engines failed over Hamburg during a raid, the naval signalman who patrolled heavily bombarded waters in Southeast Asia during the Korean War, and the unarmed peacekeeper who found himself standing on a road riddled with mines in Rwanda. From the young recruit who marched over thirty kilometres on what turned out to be a broken leg to prove her mettle, to the three brothers in arms who endured a summer of relentless fighting in Afghanistan, this collection captures the pain and sacrifice, the risks and rewards of standing on guard for Canada.
Featuring stories of courageous rescues, bravery in the face of conflict, and camaraderie at home and overseas, Everyday Heroes is an authentic and stirring look inside the hearts and minds of the men and women in the Canadian Armed Forces. These stories will make you proud to be a Canadian.